"tri" the north branch
September 16, 2017
Go to RUN
RUN
Run 3.6 miles. Paved, mostly flat, with few inclines. From the High School, across the "River Bridge," and to the Terrytown River Access.
Go to KAYAK/CANOE
KAYAK/CANOE
Paddle 4.5 miles. Smooth sailing down the North Branch of the Susquehanna River, named Pennsylvanias "2015 River of the Year." From Terrytown Access to Sugar Run Access.
Go to BIKE
BIKE
Bike 15.3 miles. Paved, beginning flat with a winding, mostly steady incline to the turn-around point. From Endless Mountain Outfitters to the STOP sign in Stowell and back, finishing at the High School.
Latest North Branch tri news
Check back here for race, weather, and weekend event updates!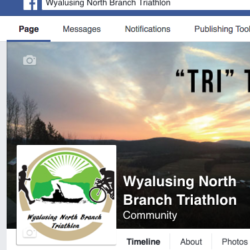 The Wyalusing North Branch Triathlon now has a NEW Facebook Page! If you were a follower of our old page, go over and like the new one to stay up to date on all of the 2016 triathlon happenings! We'll also be posting a number of helpful triathlon training tips and notes from our race Read more about Follow the Triathlon on Facebook![…]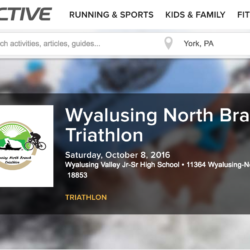 You can now register ONLINE for the 2016 Wyalusing North Branch Triathlon! Click Here!
Previous
Next